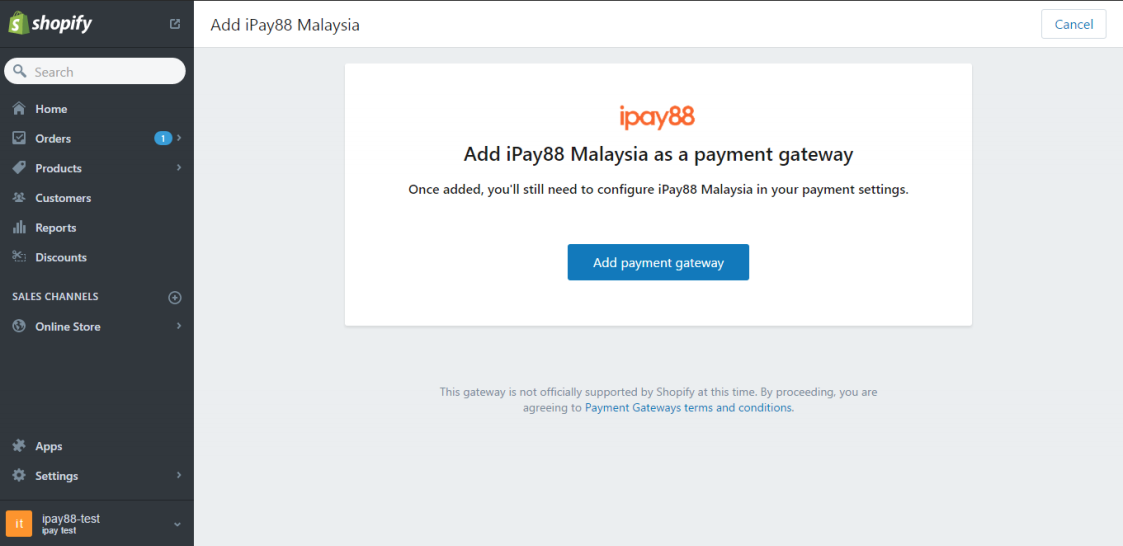 Update: 13th September 2019
Ipay88 plugin have been update, please refer to this latest update post.
Guide to enable iPay88 Malaysia in Shopify
1. Open the installation URL above, your page will be redirected to a login page to authorized the installation of the Hosted Payment for Shopify.

2. After login, you will be redirected to the installation page. Click on the Add payment gateway.

3. Ensure the Country set as "Malaysia" under Shopify Store address and click Save button. (Settings > General)

4. Go to Settings > Payments >> Accept credit cards >> Choose "iPay88 Malaysia". Continue to Step No.3.

5. Key in the assigned Merchant Code and Merchant Key by iPay88 Malaysia and click Activate button.
Note:
– For Card accepted, ensure set to Visa and MasterCard icon as this default card type accepted for payment.
– Do not tick "Use test mode".

6. Disable "Company name" field from SETTINGS > Checkout

7. Completed setup.